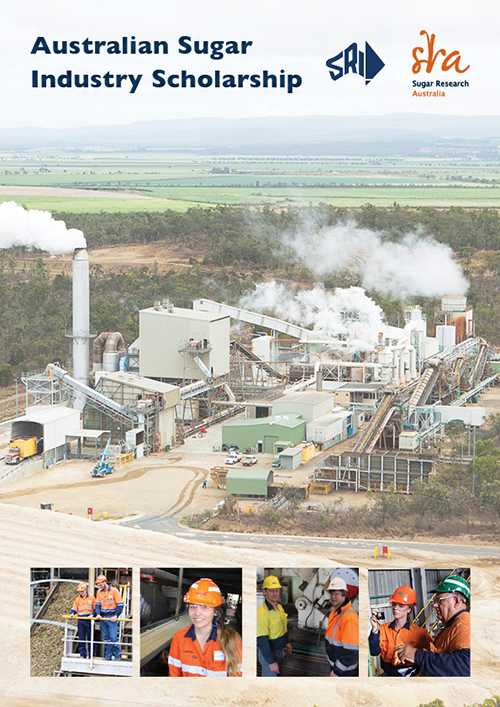 Contact:
Bruce King
Learning and Development Manager
Sugar Research Institute
Phone: 0417 645 783
Email: b.king@sri.org.au
Australian Sugar Industry Scholarship
The Australian Sugar Industry Scholarship is awarded to undergraduates (in their penultimate year of study) studying engineering (chemical, mechanical, process or electrical), science or technical disciplines at an Australian university or tertiary institution. The Australian Sugar Industry Scholarship aims to encourage the participation of high calibre students in the Australian sugar processing industry.
The Australian sugar industry will  fund scholarship recipients each year to be hosted by Australian sugar mills and refineries for up to three work placements of four weeks duration each over one and half calendar years (two placements during the crushing season and one placement during the maintenance season).
The scholarship is jointly funded by Australia's sugar mills, through Sugar Research Institute (SRI) and Sugar Research Australia (SRA).
In addition to financial and work placement support, the Australian Sugar Industry Scholarship program helps recipients to make the most of their university experience through extra development opportunities by building their leadership skills and professional networks.
Available for:
Penultimate year students undertaking an undergraduate engineering (chemical, mechanical, process or electrical), science or technical degree at an Australian university or tertiary institution.
Scholarship type:
Merit: based on application information and phone interview for shortlisted applicants.
Application dates for 2020 Scholarships:
Open date: 28 October 2019
Closing date: 13 March 2020
Eligibility details:
You must be:
A penultimate year student currently undertaking an engineering, science or technical degree at an Australian university or tertiary institution
Able to undertake three periods of work placement over an 18 month period (12 weeks in total) during semester breaks at an Australian sugar mill location selected by SRI. (Placements are: penultimate year; June/July and Nov/Dec; final year June/July ) and
Prior to the commencement of each work placement, the scholarship recipient must  successfully complete all medical tests (including alcohol and drug testing) and security checks required by a sugar industry company.
You must also be either:
An Australian or New Zealand citizen; or
A permanent resident of Australia
What you receive:
Paid work placement at industry rates (40hrs/week x 4 weeks per placement x $ (mill company rate))
Living away allowance of $250 per week.
A payment of $2,500 for satisfactory work placement and satisfactory approval of a completed engineering project report.
How to apply:
Download and complete the application form and include:
A cover letter and curriculum vitae
Certified copies of your academic record and academic transcript
Certified copies of proof of nationality or permanent residence visa
Letter of reference from at least one referee (must be recent work experience reference)
Send the completed form and attachments as instructed by the closing date.
Only students who are successful in being offered a scholarship interview are notified within 2 weeks of the application closing date. There will be no appeals process for unsuccessful applicants.
Conditions:
Scholarship recipients must:
Continue to be enrolled as a full-time student;
Successfully complete all work placement requirements and submit satisfactory work placement reports within 2 weeks of completion of placement;
Successfully complete medical/drug and alcohol testing and security checks  prior to placement;
Organise and pay for their own travel and accommodation expenses to each placement
About the Sugar Milling Industry:
Australia's nine sugar milling companies produce raw sugar at 24 sugar mills in Queensland and northern New South Wales. Over 80 per cent of Australia's raw sugar production is exported. Australia's sugar mills are self-sufficient in energy. By burning the bagasse, the fibrous cane by-product, mills generate electricity and steam to power all factory operations. More than 50% of the electricity produced is exported to the national grid – providing clean, green electricity to Australian households.
Sugar Research Institute (SRI)is a global leader in science and innovation for sugar milling and refining technology. SRI develops innovative products, technical expertise, commercial research services and training for raw and refined sugar manufacturers worldwide.
Sugar Research Australia (SRA) invests in and manages a portfolio of research, development and adoption projects that drive productivity, profitability and sustainability for the Australian sugarcane industry. An industry-owned company, SRA is funded by a statutory levy paid by grower and milling businesses, as well as through investment from the Australian and Queensland Governments.