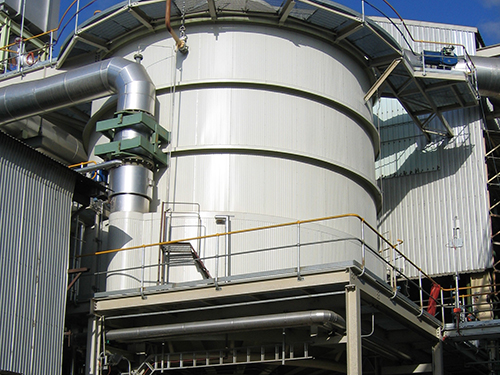 SRI's Robert Evaporator design improves juice processing rates and steam economy. Designed in-house by SRI's world-renowned experts, SRI Robert Evaporator designs improve performance for sugar mills and refineries that are dependent on vapour bleeding for juice heating or pan stage boiling.
SRI's Robert Evaporators retain all the advantages of conventional design (large volume, simple construction, easy access for maintenance and cleaning), improved through extensive factory testing and computational fluid dynamic (CFD) design.
Benefits of SRI Robert Evaporators include:
Improved evaporator set turndown and consistently smoother operation at low temperature differentials because of attention to steam-side characteristics (pressure drop, noxious gas removal, condensate removal).
Higher juice processing throughput and improved steam economy, because of better segregation of juice inflows and outflows, combined with an internal arrangement of mini-downtakes to manage juice re-circulation within the vessel.
Design packages for SRI Robert Evaporators include:
Advice on vessel sizing and evaporator set configuration
Retrofits to existing vessels to incorporate SRI technology
Mechanical design to international standards (optional)
Functional specification including control schema
Operations manual
Contact info@sri.org.au or our network of global affiliates for sales enquiries.