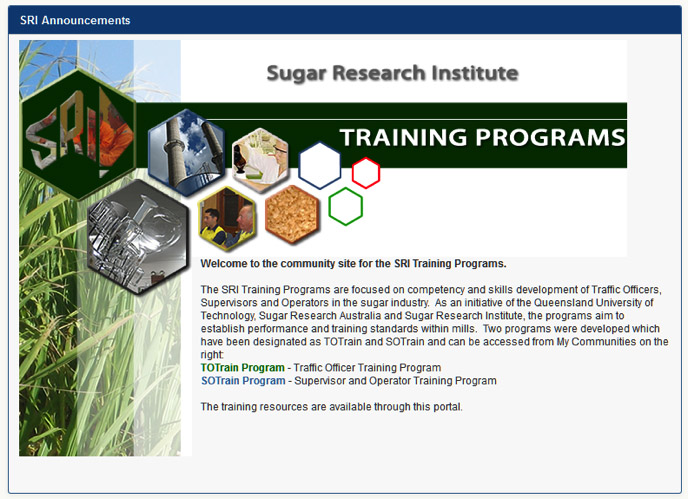 SOTrain – Supervisor and Operator Training
QUT's Supervisor and Operator Training, or SOTrain program aims to upskill mill supervisors and operators working in Australian sugar factories. SOTrain comprises modules, topics, resources, tour guides, troubleshooting guides and competency assessments. It's been designed to allow mill managers to choose which elements of the package they require for specific staff.
There are eight modules available for syndicate member access including:
Introduction to sugar factory processing
Overview of sugar factory operations
Steam and power generation
Extraction
Clarification and mud filtration
Juice heating and evaporation
Pan boiling
Fugalling and sugar drying
QUT hosts the SOTrain training package within its Blackboard learning management system.
The document titled "SOTrain User Guide" (see link below to download) provides step by step descriptions of the login and access procedures, including becoming registered, accessing Blackboard, using Blackboard to access SOTrain and how to access the features of SOTrain.
A link to download a second document is also provided.  The second document titled "Information on the SOTrain Package" briefly describes the contents of each of the modules in SOTrain.  The document includes an example of the content in one of the operator modules.
A Site Coordinator has been appointed at each mill (or milling group) that has membership in the syndicate project that funded the development of the SOTrain package.
Requests for access for individual staff should be processed via the Site Coordinator. Currently access to any SOTrain modules is restricted to the project syndicate membership.
Download SOTrain User Guide
Download Information on the SOTrain Package