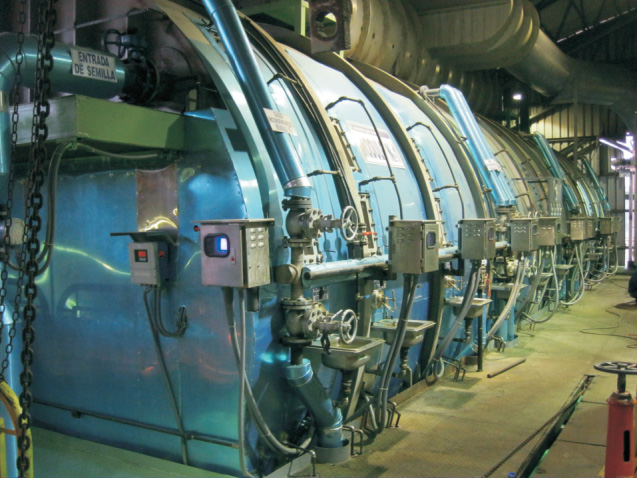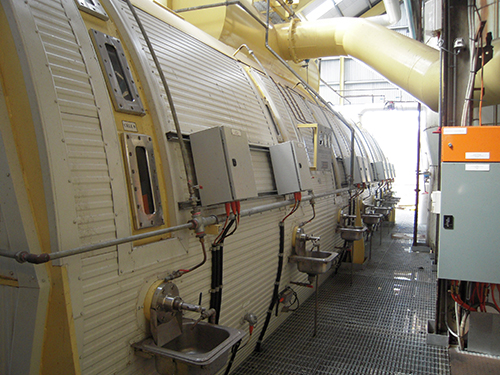 SRI's Continuous Vacuum Pan design produces high massecuite exhaustion, consistent crystal size and improves energy efficiency.
Designed in-house by SRI's world-renowned experts, SRI Continuous Vacuum Pan designs are suitable for A, B and C massecuites and are configured to optimise upstream and downstream plant capabilities.
SRI Continuous Vacuum Pan designs are available in a range of sizes from 75m³ to 220m³ or custom designed to specific factory requirements.
Importantly, the pan's vapour demand  is surge-free and consistent with steady-state boiler operation and evaporator performance for extended periods.
SRI Continuous Vacuum Pans are designed to:
Produce strong massecuite circulation
Provide uniform conditions for crystal growth at any section along the pan
Generate narrow crystal size distribution
Minimise the number of control instruments
Provide easy access to calandrias for maintenance
Simplify valving and feed pipework
Augment production capacity by the addition of an extra module
Maintain consistent production performance with minimal operator supervision
Produce rapid and simple emptying, boilout and restart operations.
Design features of SRI's Continuous Vacuum Pans include:
Horizontal pan layout comprising well-mixed cells
Carefully designed massecuite flow path to avoid flow restrictions
Small number of cells of optimal individual cell volumes
Separate modules with calandria in each module
Low massecuite boiling head
Optional mechanically stirred modules
Benefits include:
| | |
| --- | --- |
| Excellent massecuite exhaustion | Resulting in improved raw sugar recovery |
| Increased production capacity | About 30% greater than batch pan of comparable volume |
| Strong circulation movement | Allows production of well exhausted massecuite of high dry solid content, with minimal use of balancing water and steam/vapour |
Contact info@sri.org.au or our network of global affiliates for sales enquiries.